Posted on
November 5, 2020
in
Best Tuner For 5.0 F150 – Ultimate Product Review
If you are looking for ways of optimizing your motor for better performance, then you should consider installing a 5.0 F150 tuner. Despite not making permanent changes to your vehicle, a tuner for a 5.0 f150 will go a long way in helping to direct the ECM on what air ratios and fuel to use to help maximize its potential. Whether you are aiming to alter the fuel economy of your car, bump up the torque or simply increase its horsepower, a 5.0 F150 tuner will make all these possible.
However, when looking for a programmer for 5.0 F150, it is important to ensure that you go for the best one. This will help you get the most out of it in terms of improving your vehicle's performance. Besides performance, some of them even allow you to see real-time data. This will help you in monitoring everything that is going on in your engine so that you can detect any issues. In this article, we shall review some of the best three tuners for the 5.0 F150. These include:
Hypertech 3000
Bully Dog 40460B
DiabloSport 8145
1. Hypertech 3000
Save $119.05
$476.19
Computer Programmer; Max Energy Spectrum ™; Performance; Reads and Clears Diagnostic Trouble Codes
Since its establishment in 1985, Hypertech has managed to remain the industry leader in terms of developing software used to help enhance the engine power for a wide range of vehicles. One year after its establishment, the company developed the original power chip. This is the device that replaced factory engine control computers, and it was used to improve the torque and horsepower of a vehicle. In 1994, the company was also responsible for the creation of the power programmer application that enabled downloading of software enhancements into an existing ECU. This, in turn, eliminated the need for using replacement chips.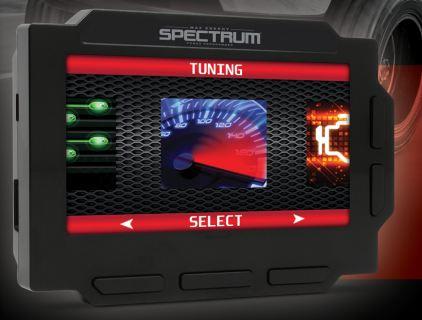 The Hypertech 3000 is one of the latest technologies from the company, and there are various reasons why this tuner is preferred by many. The Hypertech 3000 can be used on a variety of engines. Whether you are using a diesel or gas engine, this tuner will still do its job excellently. This product is thoroughly engineered to ensure that you get the best performance from your car or truck and help you to unlock its full potential. It is carefully and professionally designed to help improve your gas mileage, provide seamless service life, and give you exceptional quality. The Hypertech 300 tuner is most commonly used in vehicles meant for racing competitions due to its efficiency.
This best tuner for 5.0 f150 comes with a large 4.3" color display that is easier to read. It provides a fluid user experience and faster programming thanks to its fast processor speeds. With each application of the Hypertech 3000 tuner, you can be assured of excellent results in terms of the overall performance of your vehicle. It is also known to be one of the most powerful tunings available for towing. Most users have also reported an increase in their mileage up to 1-3 MPGs. This tuner comes packed with a USB cable with software that can easily be updated over the internet. With the Hypertech 3000, you will end up with a tuner that is capable of reading, displaying, and clearing diagnostic trouble codes. The following are some of the performance features that come with this tuner:
Tuning for popular cold air intakes
Firmness and shift points
TPMS Threshold
Shift response
Throttle response
Speedometer calibrator
Top-speed limiter
Auto-start/stop disable
Remove WOT restriction
Engine idle RPM
Features
Increases torque, horsepower, and engine efficiency.
Simple Plug and Go installation
Ability to display, read, and clear diagnostic trouble codes
Large 4.3" full-color screen with an easy-to-use interface. The screen can easily be viewed even in direct sunlight.
Provides improved mileage where users report 1-3 MPG gains
Adjust throttle response: Sport or Normal Mode with options for tow, street, sport, mileage, performance, and hyper-mileage options for either mode.
Change top speed and Rev Limiter – Adjust firmness and automatic transmission shift points.
Automatically shut the engine off when the vehicle is stopped. This is a great feature for people who drive in traffic most of the time as it lowers emissions and improves fuel economy.
Ability to lower or raise the top speed to match the installed speed-rated tires.
Warranty
All Hypertech products are warranted against defects in workmanship and material for as long as you own the motor. However, the warranty is limited to prompt replacement or correction of the product's defective parts that the company deems necessary.
2. Bully Dog 40460B
Save $142.33
$569.33
Computer Programmer; GTX; Reads and Clears Diagnostic Trouble Codes; Black
Out of stock
Bully dog 40460B is the latest tuner from Bully Dog is best suited for the new models. This tuner is capable of working well with the 2015-2019 Ford gas trucks, as well as a wide range of other diesel models. For most people who do not know what this tuner brings on board, the price might seem a lot compared to the other tuners in the market. However, if you look at what it is capable of achieving, then you will understand why the price seems to be higher than the other tuners. One of the best things about the Bully Dog 40460B is the fact that you can get updates via Wi-Fi. This means that you do not have to plug the device for you to download the updates.
This model also comes packed with a 5" LCD that you can mount on your pillar, window, or dash. It is also easy to remove, and you can take it down anytime you do not feel like using it. Another impressive factor about this tuner is that it allows you to store up to twenty codes unlike most of the other models that only allow you room for ten codes. This is basically double the capacity that the other models provide.
The Bully Dog 40460B also helps you to efficiently run your engine as it should, and maximize its potential by allowing you access to read and clear any trouble codes. Some of the features that this model boasts are hard to find in the market, which makes the price worth it. You can never go wrong with the Bully Dog 40460B. mot of its users have expressed their satisfaction, and you do not need to worry since it also comes with a one-year warranty.
Features
Removable monitor – This device comes with a convenient magnetic mounting system that allows you to keep your monitor secure whenever you do not feel like using it.
Code clearing – It allows you to detect and clear any trouble codes to ensure that your engine operates efficiently.
Performance logging – You can review your vehicle's real-time performance via data logging with a playback option.
5" LCD display to help you monitor performance parameters at a glance.
Cloud delivery – You can download tunes and updates via Wi-Fi. It can also match your Ford vehicle with available tunes and settings that fit.
Convenient monitor that allows drivers to keep it at any place that is convenient for them within seconds.
It is fast and has the ability to monitor the industry's engine parameters and some of the most extensive pids in real-time.
It comes with a capacity of 20 custom tunes
Records Data Logs At Up To 35 Frames Per Second
Grab And Go, Magnetic Mount
Warranty
The warranty covers any defects in material or workmanship including firmware and software malfunctions in the device within the warranty period specified. The warranty is valid for a period of one year following the original purchase date by you. This warranty does not cover malfunctions caused by neglect, misuse, neglect, accident, vandalism, or an act of God (fire, flood, lightning, etc).
3. DiabloSport 8145
Save $134.65
$538.60
Computer Programmer; INTUNE i3 Platinum; With Color Touch Screen; Reads And Clears Diagnostic Trouble Codes; With Chip Master Revolution (CMR); Internet Updateable
Out of stock
DiabloSport prides itself as one of the industry leaders when it comes to automotive performance products. Its products are fitted with special software that provides the required speed to run on modern vehicles. Since its establishment in 2000, the company has developed its knowledge base into a wide range of vehicle performance tuners that are capable of improving fuel economy, torque, and power.
Therefore, if you are one of those horsepower junkies and you need a fix for your vehicle, you should consider trying out the DiabloSport 8145 tuner. It doesn't matter if you have a Ford, Chrysler, or GM vehicle, this tuner performance programmer will provide you an easier way of boosting your vehicle's power without the need to even pop the hood. The performance upgrades that come with this tuner will guarantee to optimize drivability, make your throttle to become more responsive, and also improve your horsepower. It comes preloaded with programs that are specifically designed for your car, and within a few minutes of purchasing it, you will be able to improve your torque and horsepower without the need of using special tools.
This device works hand in hand with CMR (Diablosport Chip Master Revolution) software that is used for custom tuning. It also gives you the opportunity to custom tune your vehicle based on certain modifications like a turbocharger, injectors, among others. Most people do not like having to spend a lot of time tuning their vehicles. However, the DiabloSport 8145 has made this a thing of the past. This is because it comes with advanced hardware that enables it to run at high speeds. It is also packed with a display unit that can be used even if you have greasy hands.
When it comes to the software updates, you can update the device's software on any computer if your choice, be it a Mac, Windows, or Linux computer. There is also the option of updating the software via Wi-Fi. Checking and clearing of diagnostic problems is also easy, and you can record your performance data parameters that will help you whenever you want to tune your vehicle's performance.
Features
Read and clear DTC
OBD-II Data logging
Can be connected to Mc, Windows, and Linux systems
It is packed with dyno-tested performance programs
Quick vehicle read and write times
Very easy to install
Option for multi-vehicle licenses.
Warranty
The product comes with a limited one year warranty. This warranty covers certain defects in material and workmanship. The warranty does not cover damages caused by poor use or improper installation. Any alteration of the product, including the removal of the serial number, will void the warranty.
Choosing the right 5.0f-150 engine tuner
When looking for the best tuner for 5.0 f150, the model year should be one of your main considerations. For instance, there is no way you can purchase a tuner for 2013 f-150 5.0 and expect to work well if your model is not compatible. Ensure that you go through the product features to confirm, the truck model that the tuner is compatible with. Secondly, you should consider the ease of installation and use. The installation process should be fast and straightforward. Most tuners directly plug into the OBDII port. They also come with on-screen instructions on the steps to follow during set up.  You can go through reviews of the tuner you are interested in to know whether it is easy or difficult to install.  You also should consider power levels. Go through the tuner features to know more about the power levels offered. For most of them, you can easily revert them to factory settings. You also should consider a product that increases horsepower, fuel economy, and torque. Other important considerations include ECM download time frame, storage, monitor size, versatility, price, and warranty.
Final thoughts
It is hard to deny the fact that F 150 trucks are exceptional vehicles. The most exciting thing about them is that you also have the opportunity of tuning them to your liking to improve their performance. If you want a tuner that improves gas mileage and uses less fuel, consider purchasing Hypertech 3000 since it comes with multiple amazing features. But if you are shopping on a budget, DiabloSport8145 is worth considering. This tuner allows the car owner to calibrate the truck for a better fuel economy. If your aim is to eliminate downshifting, go for bully dog 40460B. On the other hand, if you think that your driving habits need improvement, DiaboSport 8145 can also give you this privilege. Bear in mind that not all tuners are the same. They have different capabilities depending on the truck model.  It is therefore important to consider your options wisely.
Related posts