Posted on
November 11, 2020
in
Best Tuner for 5.0 F150 – Ultimate Product Review
The Ford F150 has been a very popular truck for several years. This truck guarantees quality, strength, and speed. It has outstanding engine configurations and offers a smooth ride, whether on rough roads or smooth terrain. However, these great features are limited to the vehicle's configurations and engine control. You can boost the capabilities of your truck by installing the best tuner for 5.0 F150, and have a ride of your lifetime.
With a performance programmer, you have an opportunity to customize the performance of your truck. To get the most out of your Ford F150, you need to invest in the best tuner for 5.0 f150. Read on to find out what tuner will best suit your truck.
What are the Benefits of performance programmers for F150?
Performance programmers come with several benefits. Besides optimizing your vehicle's performance, some tuner models will show you real-time data on your truck. This feature allows you to fix any issues in advance.
Other important benefits include;
Increasing the vehicle's horsepower and torque by changing the fuel and air ratio
Providing more fuel efficiency
Are affordable upgrades that will unlock your truck's full potential
Very easy and fast to install, which cuts down on labor and installation costs
Are perfect fits for your vehicle
What is the Best Tuner for 5.0 F150?
A tuner does not change your vehicle permanently. It optimizes it to get better performance. This maximizes the truck's potential because it makes it have a better fuel economy and higher horsepower and torque. The tuners we will be looking at in this article include:
DiabloSport 8145
Bully Dog 40460B
Hypertech 3000
1. DiabloSport 8145
Save $134.65
$538.60
Computer Programmer; INTUNE i3 Platinum; With Color Touch Screen; Reads And Clears Diagnostic Trouble Codes; With Chip Master Revolution (CMR); Internet Updateable
Out of stock
The DiabloSport 8145 in Tune i3 Platinum Performance Programmer is the ideal choice for your Ford F150. This programmer is designed for people who are not afraid of power. It offers preloaded high-performance tunes and allows for custom tuning.
This tuner has five levels of power. These include:
Power Level 1 (Diablo 93 Tune): 86 HP, 63 TQ
Power Level 2 (Diablo 91 Tune): 58 HP, 32 TQ
Power Level 3 (Diablo Tow 91 Tune): 35 HP, 26 TQ
Power Level 4 (87 Performance): 35 HP, 26 TQ
Power Level 5 (87 Economy): 35 HP, 26 TQ
The DiabloSport Crew understands what it means to take your truck to the next level. The crew is filled with horsepower, racing, and tuning enthusiasts who ensure you get the best out of your vehicle. They pride themselves in delivering the best preload tunes in a user-friendly device like the in Tune i3. This device can optimize your vehicle's computer to increase its throttle response, horsepower and optimize the truck's shift patterns without opening the hood.
The i3 Platinum is the perfect fit for your truck because of its capabilities. This product is, however, for racing only. So, it cannot be used on public roads, streets, and highways.
High-tech CMR
The DiabloSport 8145 in Tune i3 performance programmer works excellently with the DiabloSport Chip Master Revolution custom tuning device. This means you can get custom tuning for your truck based on modifications like a turbocharger, fuel injectors, and other hard-part upgrades.
Increased Horsepower
Every driver wants to have a high-performing vehicle. So, when it comes to tuning the truck, jokes are set aside. The DiabloSport crew engineered the DiabloSport 8145 with highly advanced hardware. So, this programmer has very high horsepower that will enhance the performance of your truck in minutes. The device displays a full-color touch-screen that responds even to greasy hands.
Update your Tuner Anywhere
The Tune i3 programmer is extremely convenient. You can update it anywhere at any time. Whether you have a Mac, Windows, or Linux computer, you can update the i3 software without any hassle. You can even update it using Wi-Fi!
Incredible Diagnostic capabilities
With an OBDII connection, you will be able to retrieve diagnostic data from your vehicle at any time. So, you can easily check and clear diagnostic trouble codes and even record your vehicle's performance data parameters to use during the tuning process.
If you want to export the data to your PC to better look at what your truck's engine is doing, the DiabloSport data viewer logging software will be of great help.
Main features
Features dyno-tested performance programs
Reads and clears diagnostic trouble codes
Features windows, Linux, and Mac OSX connectivity
Easy and fast to install
OBDII data logging
Adds horsepower and torque
Adjustable vehicle parameters such as speed limiter, tire size, etc
Supports CMR custom tuning
Limited one-year warranty
The whole package includes:
In Tune I3 DiabloSport 8145 platinum programmer
I3 mini USB cable
I3 OBDII cable
2. Bully Dog 40460B
Save $142.33
$569.33
Computer Programmer; GTX; Reads and Clears Diagnostic Trouble Codes; Black
Out of stock
The Bully Dog 40460B performance programmer by Bully Dog is one of the best in the market. It is very easy to use and is loaded with powerful up-to-date features. The hardware is also highly advanced. This performance programmer is very fast, and it is incredibly responsive. It starts up in less than ten seconds, and with its five-inch capacitive glass touch-screen, you can start setting up your vehicle in seconds.
This device holds up to twenty custom tunes and comes preloaded with several tuning levels. Bully Dog 40460B gives drivers the ability to monitor their vehicles and engine parameters easily. It has high-resolution gauges that can be easily customized and has strong Wi-Fi connectivity.
This device can tell drivers what is happening in their truck using the DTC software that reads, displays, and clears diagnostic trouble codes. This tuner also comes with a magnetic mounting system that keeps the tuner in one place while driving and stowed away after use.
The Bully Dog 40460B can receive custom tunes from any Bully Dog custom tuning dealer or via Wi-Fi. This is a race-only product that should not be sued on public roads, streets, and highways.
Live Link Software
Bully Dog 40460B performance programmer offers drivers unparalleled user experience. Drivers can easily log vehicle performance data while driving and play it later using the Live Link Software.
Next Generation Tuning
GTX tuning device delivers street-tested and dyno-proven tunes developed by experienced Bully Dog Calibrators. These tunes will take your Ford F150 to the next level and unlock its true potential. You can select tunes from the preloaded custom tunes or load up the device with tunes of your choice from a reliable Bully Dog dealer. This tuner has come to put cables and computers in their resting place because it offers direct-to-device Wi-Fi updates.
Data Logging and Real-time Diagnostics
The Bully Dog 40460B offers drivers lightning-fast real-time monitoring capabilities. So, drivers can monitor the most extensive PIDs of the industry and engine parameters. Also, this tuner's diagnostic capability reads and clears DTCs, which saves drivers a costly trip to the vehicle dealership. You can customize the tuner further by adding more sensors using an integrated FireWire cable.
Highly Responsive Touch Screen
The five-inch capacitive touch screen that Bully Dog 40460B has is highly responsive. It displays gauges and graphics in bright HD colors that rival today's Smartphones. This tuner starts up fast and provides users unparalleled experience. The user interface is fully customizable and provides the gauge layout very fast. GTX comes with a magnetic mounting system that helps in keeping their tuner in place.
Main Features
It offers next-generation tuning; it features street-tested and dyno-proven custom tunes developed and calibrated by Bully Dog expert calibrators.
Offers direct-to-device Wi-Fi updates that reduce the need to use cables and computers
Real-time diagnostics and data logging capabilities to monitor engine parameters and PIDs
Reads and clears DTCs saving drivers an expensive trip to the dealership
Highly responsive five-inch HD touch screen
Starts up in seconds
Easy to install
Features a grab-and-go magnetic mounting device that keeps the tuner front-and-center
Limited one-year warranty
The Bully Dog package includes;
The head unit
USB cable
OBDII/HDMI cable
MAG cable
Vehicle interface module
3. Hypertech 3000
Save $119.05
$476.19
Computer Programmer; Max Energy Spectrum ™; Performance; Reads and Clears Diagnostic Trouble Codes
Max Energy's Hypertech 3000 performance programmer is the best handheld tuner in the market. This device will improve the performance of your Ford F150 by improving the fuel economy and increasing horsepower and torque.
This tuner is for racing purposes only and should not be used on public roads, streets, and highways.
Un-matched Diagnostic system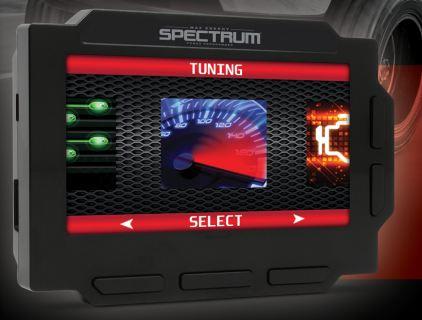 Hypertech 3000 will read, display, and clear all the diagnostic trouble codes of your vehicle. This un-matched capability will tell you what is happening with your engine at all times. So, you will know where the problem is emanating from and fix it early on.
Full-color screen
Max Energy Hypertech 3000 tuner comes with a large 4.3-inch color touch screen that is highly capacitive and offers user-friendly navigation. The screen is easy to view at all times, even in direct sunlight.
Main Features
Offers improved mileage
Reads/displays/clears DTCs
The most powerful towing device
A large 4.3-inch color screen that is highly responsive for easy navigation, simple installation, and easy to view
Application-specific features
Optimized engine tuning that provides maximum performance
Provides flawless service for years
Adjustable tire pressure monitoring system
Improves engine torque, efficiency, and horsepower
Easy to install
Features button screen control
Limited lifetime warranty
How to Select the Right Tuner for 5.0 F150
If you want to improve the performance of your F150, it is paramount to select the right tuner. There are many devices in the market, and it can be daunting to choose the right one. That is why you should consider the following things when buying a performance chip.
Compatibility
Compatibility is of the utmost importance when it comes to choosing the right tuner. Even if you pick models that work on the vehicle's power, the tuner may not work on your truck if it is not compatible with it. The model year of the vehicle plays a big role in the compatibility of the tuner. So, ensure that you select a performance chip that is compatible with your F150 to avoid inconveniences.
Ease of installation and use
Installing a tuner should not be difficult and should take the least time possible. Once you plug into the OBDII port, you will see on-screen installation guidelines. Also, you can read the installation manual that comes with the tuner. The device should also be easy to use.
Power Levels
Before you buy the tuner, read through the specifications and features to know the levels of power they offer. Many tuners feature stock settings to allow users to revert to the truck's factory configurations fast. Always check the pre-set power levels to know what to expect in terms of horsepower and torque.
ECM Download Time
After locking in the adjustments, all information should be downloaded before the changes start taking effect. The download time on some devices is too long, especially the cheaper ones. If you want to make the adjustments quickly, invest in a performance programmer that calibrates in minutes.
Storage Capacity
The storage capacity of the tuner is also essential, especially if you want custom tunes. High-end devices will provide users with enough storage slots to keep up to twenty program files. However, such tuners may be costlier than the basic ones.
Size of the Monitor
Having a larger screen helps in real-time data viewing and makes adjustments easily. The display and ease of readability are also essential when selecting a tuner. Also, select a tuner that has a full-color screen that is responsive and can be viewed easily during any time of the day and night.
Data Monitoring
Knowing what is going on in your truck's engine is essential. Some tuners provide drivers with this information. This helps them to fix any problems in time. The real-time functionality is essential as it will provide you with vital information about your vehicle.
Versatility
A tuner becomes more valuable if it is versatile. Having a programmer with more than one power setting, the ability to monitor data in real-time, and can read and clear DTCs will be more valuable than a basic budget-friendly device. So, determine the features you want in a tuner before you go shopping.
Warranty Information and Price
Even if you want to save money, you should buy a tuner that offers you what you are looking for. Evaluate the specifications of the tuner and decide whether it will offer you value for money.
If you have a tight budget, check the specifications and features of the tuner to check whether it will offer you what you are looking for.
It is better to buy a valuable tuner at a higher price and get everything you want. Also, compare the warranties of different tuners and select a company that can stand behind their products.
Conclusion
Ford F150 trucks are awesome and very popular. However, you should not limit yourself to the stock settings when you can get more from your vehicle. Tuning the vehicle will improve the performance of the vehicle and can improve fuel mileage. Also, your vehicle will have increased horsepower and torque.
You can unlock the full potential of your truck by installing a tuner that fits perfectly. Before you buy a tuner, ensure that you check whether it is compatible with your F150.
With the fuel economy, easy navigation, price, ease of installation and use, and preloaded custom tunes, what more could you ask for. With the information we have provided you with, you are at a better place to choose the best tuner for your 5.0 F150.
Related posts